I must begin this blog by saying how excited we are to tell everyone about our new Inn, Inn at Pinnacle Mountain. I am Mary, and my Fiancée is John, we are the Innkeepers. We have traveled to many places and have stayed in many Inns and B&Bs, and have always been intrigued about this lifestyle. We always asked the Innkeepers why they enjoy Innkeeping.  Not surprisingly, most of them say it's hard work; and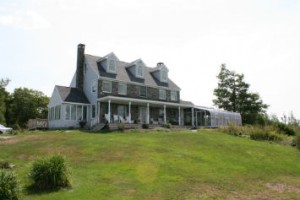 I have no doubt we are going to be working very hard, others say it is rewarding work because most of their Guests come back every year, and they enjoy interacting with people. We believe we share the same traits.
We are originally from Pennsylvania and New Jersey, and began visiting Maine more than 10 years ago. Our initial love of Maine began in Kennebunkport.  Every 1st weekend in December, Kennebunkport  has a Christmas Prelude, where the start of the Christmas holiday is celebrated. All the little shops and restaurants are decorated for Christmas, along with Christmas music, cookies, hot chocolate, kids singing Christmas carols in a Norman Rockwell vision; you know the scenario. We always stayed at an Inn or B&B, and it was always so cozy and warm. Thus began our love fest and dreaming of owning our very own Inn.
Last year we were searching for a location in Maine to celebrate our marriage vows, and to make a long story short, we fell upon the most beautiful home for sale in West Paris, Maine.  We made the appointment to see the property, we were here for about 10 minutes,  and knew we had to have this property.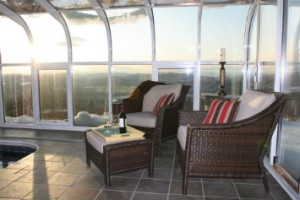 The Inn sits on 52 acres at Pinnacle Mountain, in West Paris, Maine, and overlooks the Presidential Mountain Range of New Hampshire. Mount Washington is visible in all her glory. As of April, she is still snow covered and we are humbled by her beauty. The view from the front porch of the Inn is beyond beautiful;  its breath taking and magnificent.  We can easily lull away the time sitting on the front porch where the only thing you can hear is the breeze and birds chirping, and the view is beyond comprehension.  Every room of the inn has a mountain view.
This Blog is intended to update folks who are interested on the work in progress of the Inn at Pinnacle Mountain.   We are shooting for a grand opening date of June 9, 2012.  We will also have an open house on June 9. Initially, we will be opening with 3 suites.  As of this date renovations of our premier suite, named the Tuscan Suite, is nearly complete.  We are also actively renovating a Parisian Suite and a Caribbean  Suite. Please see some of the pictures in our gallery.
The Inn At Pinnacle Mountain is a luxury inn with all the amenities of a full service luxury Inn. At this time, we have 2 dining areas, one is our Hill Top Cafe with views of course, and the other is a formal dining area for a larger group.  Relax in the quiet living room with leather and wood appointments.  Our Sun/Bar room, also known as Finnigan's Pub, is for entertainment, along with a full mountain view pool atrium with a built in pool with swim jets, and a whirlpool spa. Please check back often for updates and pictures of our Inn as renovations progress.
---