HAVE YOUR MAINE MOUNTAIN WEDDING AT THE INN AT PINNACLE MOUNTAIN!
The Inn at Pinnacle Mountain is a Maine Mountain Wedding Venue. The Venue has 180 degree mountain views as a back drop for your rustic but elegant wedding. We are a unique wedding venue that offers panoramic mountain views and beautiful lodging for your wedding.
We have launched a new web site www.mainemountainweddings.net and are updating it daily. Please refer to this site for any questions you may have.
52 private acres
unforgettable mountain views
romantic photographic locations
modern facilities with an indoor ladies and men's room
parking
privacy
manicured grounds
flowers surrounding all outside decks
pond with dock and bridge for photo ops
bridal/honeymoon suite
5 Bedrooms, 3 full bathrooms
outdoor seating on the Farmers Porch
4-day, 3-night wedding package
tent location with view
extensive deck for cocktail hour or outdoor wedding
outdoor bar with running water and refrigeration
outdoor electric
indoor pool and Spa
no time constraints
Make your wedding an event to remember with mountain and valley views. The outdoor bar overlooks the pond and mountain views, which is the backdrop for your rehearsal dinner and cocktail hour. Your Photographer will create memories that will last a life time. Imagine your photos taken at the pond, the wedding party on the dock, or the bride and groom at the kissing bridge.
Please call 877-875-7109 to make an appointment, to see the views. Let us tell you how we can make your event unforgettable. We work with many Caterers and Wedding specialists.
Off Site Business Meetings
Business Office Parties
Holiday Parties
Workshops/Retreats
Cocktail Parties
Family Reunions
Weddings
Rehearsal Dinners
Mid-week Getaways
We can make your event a memorable one, whether its a sunset wedding with one of the best views in Oxford County, an off-site business meeting , or a family reunion. Call us to plan your next event.
Holly said…
Mary was so wonderful, always had a smile, and made sure we had everything we needed for our wedding!! The venue was gorgeous, super clean and of course amazing views! We will be going back for sure!! I would totally get married here over and over and over again!!!
Rachael said…
This place is amazing! My hubby and I got married here in July of 2015. It was our dream wedding! The Inn and the views that surround it are so romantic. We had such a wonderful experience working with John and Mary. They were so welcoming and accommodating. Our bridal party had so much fun staying there for the weekend and all our guests were wowed. I can't even begin to explain how beautiful the views are which made pictures breathtaking! We are so lucky that we have these memories to look back at and I would suggest this place to anyone looking for a beautiful venue in the near future! I wouldn't have changed a thing.
Shalise said…
The Inn at Pinnacle Mountain is an incredible place to hold a wedding! We took over the entire Inn for a long weekend and had a good time with our party. Everyone was absolutely in love with the gorgeous view and mountain top majesty! I envisioned getting married in a place that screamed of Maine's natural beauty and I more than achieved my vision, even despite the freak mountain storm during my 30 minute ceremony when the rest of the day was stunning. When it comes to that moment I learned how absolutely amazing my friends/family/party are and that very little about what was going on around me mattered aside from me standing in front of my hubby to be 🙂 I now find rain romantic at the very least! We got married on the deck, but they have the space to accommodate a lot of people in multiple areas on the property. Mary and John love what they do and are very good at it! Mary catered a post-wedding brunch for us that had people raving! They both go above and beyond to make the bride and groom happy on their special day!
K.C. Said…
We just returned home from an amazing weeklong Honeymoon and dream wedding at this beautiful home. John and Mary were so wonderful to work with. They have thoughtfully grasped what people need for a wedding and when they want to "get away from it all." The house and surroundings are breathtaking. Our wedding guests were in awe when they saw the view from the front porch. Pictures don't capture how amazing this property truly is, however our wedding photos are absolutely beautiful. The accommodations were top of the line. Plenty of towels, kitchen supplies, and everything we needed to host the rehearsal dinner. We spent most down time in the pool and hot tub watching the glorious sunsets over the mountains. We can't wait for a return trip for our anniversary next summer to sit by the fire pit and spend some more time enjoying this incredible property! Thank you John and Mary for sharing your beautiful home with us, and allowing us to have a wedding of our dreams. We will be back soon!
Meredith said…
The view from the Inn at Pinnacle Mountain is spectacular, especially the sunsets. The view is definitely one of the top reasons why I chose the Inn, but most importantly I chose it because of John and Mary LemMon, the owners and innkeepers of this beautiful location. Planning a wedding in Maine while living in Alabama is no easy task, but John and Mary made it so much easier. Mary had great suggestions for local vendors, such as florists, beauty salons, photographers, and bakeries. She understood my vision, even though I wasn't always able to articulate it well. The Caterer that Mary and John referred us to prepared our rehearsal dinner and the reception dinner menu – both of which were absolutely delicious! John was not only our officiant but he was also our DJ and he did a fantastic job at both! He did a wonderful ceremony, incorporating everything we wanted. Not having to look for a caterer, a DJ, and someone to marry us was a blessing. We arrived a few days before the wedding with my parents and my Maid of Honor. When we entered the house, classical music was playing in different rooms and it was really relaxing. We relaxed in rocking chairs on the front porch and soaked in the hot tub every evening. All the rooms were cozy and welcoming and the beds were equally comfortable. Our guests kept saying how beautiful everything was and what a good time they had. I did not feel stressed and it was an amazing weekend. I am so glad (and so are my husband and parents) that we chose the Inn at Pinnacle Mountain for our wedding.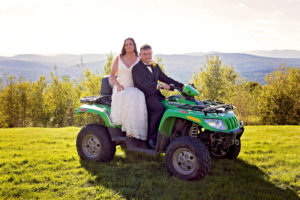 Laurie said…
Mary was soooo helpful especially since our wedding day had tornados predicted and we had about 4 inches of rain. It could have been a terrible day but Mary and her husband were willing to go above and beyond to help make it the most beautiful day ever. Everyone had a blast at the wedding and it is a gorgeous venue. All the guests loved it and so did we!
Caterers
Steve's Catering, Oxford, Maine
The Good Food Store, Bethel, Maine
Florists
Allium Farm Designs, Jessica Doe
Party Rental and Supplies
Transportation Companies
DMC Livery Service, South Paris, ME
---