Imagine sitting on top of a mountain with a 180 degree view of the white mountains, the valley, the Green Mountain of Vermont, and the West Maine Mountains. The sun is beating down, a cool breeze sweeping across your face, leaves fluttering on the trees, hawks and eagles riding the wind currants from the valley below. Picture snow capped Mount Washington in the winter welcoming you every day.
Now, imagine that, plus all the amenities you could possibly want – including a heated enclosed in-door pool. Enjoy the view while relaxing in the hot tub with a glass of wine and watching the sunset.
The Inn sits on 52 acres, some which are wooded with trails, some that are open meadows leading to the large spring fed pond. Imagine relaxing on the dock at the pond enjoying the views, or trying your luck at fishing.
Spend the day hiking the trails searching for Tourmaline which is abundant in this area. During the winter season put on your snow shoes and take a walk during a full moon into the meadow and get lost in the galaxy of stars that explode overhead.
For Cross Country Skiers, silently gliding through the trails allows you the opportunity to see the abundant wild life and if you are lucky, maybe a moose.
For the more adventurous, snow mobile the local trails that cross the Inn property. Ride your ATV on the Inn's groomed trails, or explore the state ATV trails, which are also accessible from the Inn.
All of this in one place. It may be hard for you to pull yourself away from our views and amenities, however there are a multitude of activities in the area for all four seasons that we can recommend to you.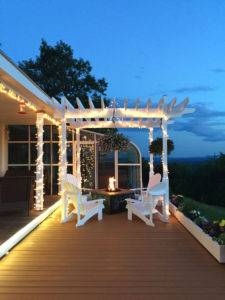 OUR MAIN MOUNTAIN HIDEAWAY HAS INCREDIBLE COLORS IN THE FALL. RENTAL DATES STILL AVAILABLE FOR LEAF PEEPI Click here for details

---